An Alternative to a Cast Boot for Managing Charcot Anthropathy: A Crow (Charcot Restraint Orthotic Walker) Boot.
It is common practice to use cast boot walkers to help stabilize Charcot deformities of the foot and ankle and to minimize bone and joint destruction. They are also used to offload plantar ulcers and assist with healing. The total contact design and rockered sole immobilize the joints and allow patients to ambulate. The cast boot is widely used to assist in the healing process of Charcot Arthropathy.Prefabricated off-the-shelf cast boots are readily available in hospital settings; they are inexpensive and easy to fit. They are designed to fit everyone and, in many cases, do.
However, when there is severe deformity in the foot or ankle, this may not be the best option. An ill-fitting cast boot can delay healing, discourage compliance, and, in the worst case scenario, cause new pressure sores. The limitation of the cast boot lies in the inner plantar surface as it is flat and not contoured. The irregular surfaces caused by boney prominences of the Charcot foot would end up with increased pressure instead of relief.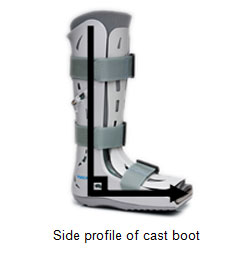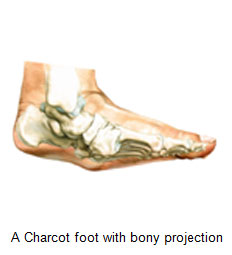 With the pneumatic cast boot, maximum stability can only be achieved when the air bladder inside it is properly inflated. This is designed to make the boot a total contact device to prevent movement of the foot and ankle providing a more precise fit. The importance of this step is often lost as patients frequently do not understand how to properly inflate the boot and will sometimes forgo this step altogether. Another common problem is that patients often misplace the pump needed to inflate the boot.
An alternative treatment: a custom-made CROW
When there is gross deformity in the foot and ankle secondary to Charcot changes, a custom-made CROW is preferred over a cast boot for several reasons. Firstly, the intimate fitting nature of the CROW provides total contact offloading without any additional adjustment on the part of the patient. The close fit controls edema and provides maximum support to the foot and ankle. Secondly, any marked deformity can be accommodated for during fabrication of the CROW including prominent malleoli and plantar exostosis that are at high risk for rubbing in a cast boot.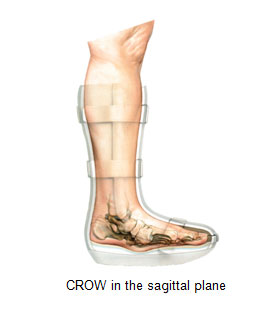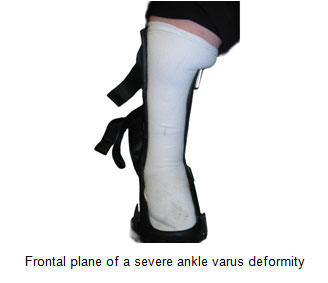 Plantar surface deformities are accommodated for and offloaded by the CROW's custom-made foot liner. A delicate balance of cushion and support move pressures from where they are the highest and evenly disperse them over the whole foot. Lastly, malalignment that increases pressure at various points in the gait can be properly addressed not only through the liner, but also through the external sole. A custom rockered sole significantly reduces plantar pressure and creates changes in biomechanical function. Balance issues can also be addressed by customizing the height of the sole. Excessive lateral or medial instabilities can be corrected and support can be provided for fixed deformities.
A custom-made CROW is a viable alternative to a cast boot for managing Charcot Arthropathy and helping to heal plantar ulcers. Patients report a higher level of comfort as it is a device custom made for them. A CROW provides maximum stability for the joints of the foot and ankle. It can be adjusted to reflect changes in the limb to continue to immobilize and offload the foot and ankle and promote healing. For a CROW to be most effective, it should be made by a Certified Orthotist who is an expert in pathologies, anatomy, biomechanics, alignment and materials. A custom-made CROW should start with a casting of the patient's leg to create a mold. To ensure proper fit, a CROW should be fabricated and fit at the same location as any adjustments needed can be completed right away while the patient is in the office.
Off-the-shelf CROWs are available, but have similar limitations as a cast boot and, therefore, become more expensive and less effective. Fit and function are of utmost importance when dealing with the neuropathic high-risk foot. With the maximum protection and minimal pressures, a CROW can effectively facilitate healing and provide the best possible outcome for the patient.